Edition 6 of the Walks Around Britain podcast features an introduction to the county of Sussex from writer & blogger Tanya Oliver and an interesting insight into the background and aims of Stuart Jessup's epic 2,600 mile walk around the edge of England. Merino experts Chocolate Fish Merino join us to explain the benefits of non-synthetic clothing and presenter Kate Humble tells us about her passion for walking and the great outdoors.
Tayna Oliver's Sussex
Writer and blogger Tanya is a big advocate of going walking in Sussex, and in her introduction on the podcast to hiking in the county she certainly makes a great case. In the August edition of the podcast, she'll take us on a walk in Ashdown Forest.
Tanya's blog is here
and she's on
Twitter too
if you'd like to follow her. Don't forget there's the
Visit Sussex
website with more information about the county.
Walking on the Edge
Stuart Jessup's epic 2,600 mile walk around the edge of England started at Tower Bridge in London on the 9th October 2011 and finished back there on the 10th June 2012.
As of 30th June 2012, he has raised a mammoth £11,723 for the charities SANE and Anxiety UK to support their work with mental health sufferers.
Stuart tells us a great insight into the background and aims of the walk in his audio blog on this months podcast - and if you want to find out more about this challenge, you can visit his website at
http://www.walkingontheedge.org.uk/
and follow him on Twitter at
http://twitter.com/englandwalk
Chocolate Fish Merino
You can find out about the benefits of Chocolate Fish's Super Fine Merino at their website
http://www.chocolatefishmerino.co.uk/
If you want to check out our Beginners' Guide to Walking, it's on
our website here
.
Kate Humble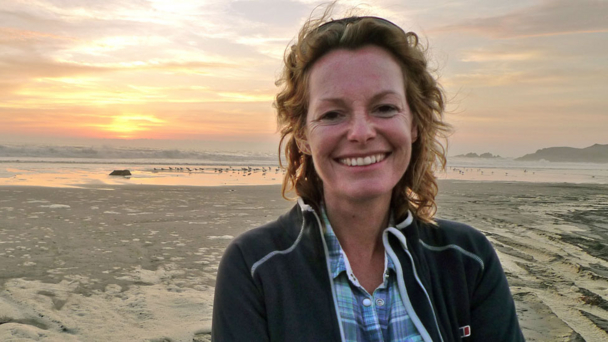 Kate Humble - photo (c) BBC
Following her success in series in Springwatch and Lambing Live, Kate's new series, Volcano Live, starts on the 9th July on BBC Two and is broadcast over four days from the Kilauea volcano on Hawaii's Big Island.
The programme will connect viewers with this active terrain as it transforms the life and landscape around it. As Kate embarks on a journey of discovery, geologist Professor Iain Stewart provides context and insight and together they guide viewers through the science of volcanology. Below is a taster from episode one...
You can find out more about Kate's farm and the course she mentioned on the podcast at the
Humble by Nature website
- and there's more about Kate herself at her
own website here
.
Well, that's another podcast completed - it was so full up this month we didn't get space to say "bye"! Hope you've enjoyed it. If you've got any comments and suggestions, please let us know - either leave a comment here on the blog, or post on our
Facebook page
.