Wastwater Photography
Mark Gilligan is cited as one of the worlds top Landscape Photographers.
A multi award winning member of both the British Institute of Professional Photography and the Royal Photographic Society, Mark is a features writer for many magazines such as 'Lake District Life', 'Lancashire Life', 'TGO', 'Country Walking' and 'Cumbria'.
On the podcast, Mark talks about his love of the Lakes and in particular Wast Water.
To find out more and to see Mark's stunning photography,
visit his website here
.
National Three Peaks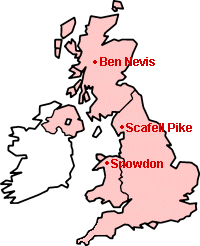 The Three Peaks Challenge involves climbing the three highest peaks in England, Wales and Scotland within 24 hours. It is a misconception the challenge takes in the three highest peaks in Britain - it doesn't - over 100 peaks in Scotland are higher than Scafell Pike, and 56 higher than Snowdon.
Having said that, it is a considerable challenge, and one rated up there with several higher mountains by people who have attempted many.
Mark Brigham joined Andrew to chat about his National Three Peaks adventure last year.
Cameron McNeish
There isn't much in the outdoor world Cameron McNeish hasn't done. He's edited magazines, written books, presented television and DVD programmes, after dinner speaking, lecturing and being an adviser to various outdoor organisations.
But before all of that, he is a passionate wilderness hiker, backpacker and mountain walker - and it is this fact - as he points out - which makes him different to other presenters. And spot the lovely mention of Nick Crane...
To find out about Cameron's ever growing range of DVDs and books, visit the
Mountain Media
site - and say we sent ya!
Hope you enjoyed this month's podcast. Please let us know your comments and suggestions.